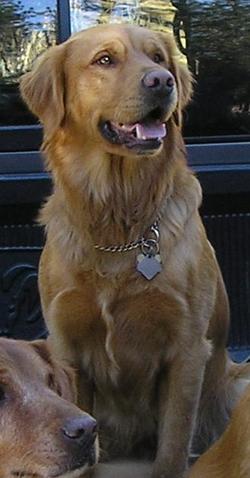 Trip - is registered with American Kennel CLub as "What a Long Strange Trip" (a line from a Greatful Dead song). He was born December 21, 2003 in Langlois, Oregon. Trip's pedigree is rich with Ancestor's who have been awarded numerous AKC hunting ceritifcates, including his father, "Gus for the Gold". Gus achieved his Junior, Senior and Master Hunting Titles by the age of 31 months.

Trip is his father's son. He loves any activity which involves water. He particularly loves water entries from five feet or more above the water. We have seen him jump off ledges ten feet above the water. He will retrieve decoys under ANY condition including icy waters in the middle of a snow storm. He even retrievers rocks off the bottom of lakes.

Trip's AKC Registration # is SR14176502
OFA Certification # for hips GR-89251F27M-PI
OFC Certification # for elbows GR-EL13284M27-PI

Slide shows with additional pictures can be seen below!
---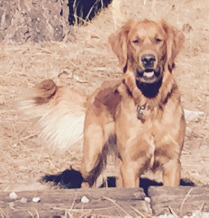 Quinn - THE MIGHTY QUINN


Keeping with our tradition, Quinn is named after a Bob Dylan song, "Quinn the Eskimo." His registered name is "You'll not see Nothing like the Mighty Quinn." Quinn comes from Coeur de Allene, Idaho. He was born May 28, 2014. Quinn is the tallest of all our goldens, but weight only 72 lbs. He is all muscle and as athletic as Trip. He is now the leader in all outdoor activities, out running, out swimming and out retrieving everyone.

---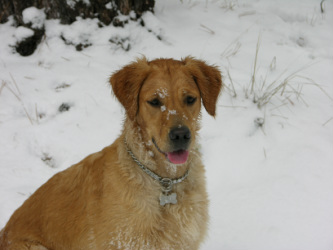 Siri -

Siri was born June 8, 2014. She comes from Henry, Illinois via United Airlines. Her registered name is "The Force is with Siri Tachi" which comes from the Star Wars comic book series. Siri Tachi is a Jedi Warrior and the love interest of Obiwan Kanobi. Siri is also an avid retriever on both land and water.
---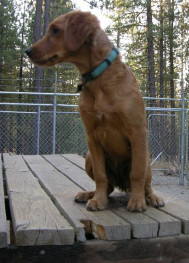 River - is registered with AKC as "A River Runs Through Her" (after our favorite movie). Born 5/20/2008 She hails from El Paso, Illinois, and came to us via plane flight. She is a very confident outgoing girl. Only moments after her arrival at Reno, she owned the terminal and had everyone;s attention. On the way home, we stopped at PetCo and Home Depot where she again played the crowds perfectly. Rivers heritage is rich with hunting and retrieving champions. Both her parents are Master Hunters.
River has been retired from breeding and now is just a family pet.

Rivers AKC Recistration # is SR49840707


Slide shows with additional pictures can be seen below!

---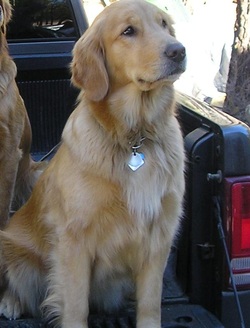 Kacey - is registered AKC "Kacey's trouble Ahead & Behind" (also Grateful Dead song) was Born May 29, 2003 and passed October 15th 2011. Kacey dropped 4 litters total with 37 puppies in all.

AKC Registration SR09816004
OFA Certification # for hips GR-87110F26F-PI
---